Many dream of working online where others go on vacation. Others just want more freedom in terms of work and would like to be able to work from home.
We know that this is possible, because there are enough successful people who work from anywhere, regardless of location. However, we often cannot imagine it for ourselves.
---
Read Related Articles:
---
There are now countless ways by which you can work online and earn a living from anywhere. The internet makes it possible.
So how can you, too, manage to break away from the chains of the office chair? How can you do your previous work from anywhere or from home? And what other jobs are there that you could possibly take on in order to become location-independent?
I'll show you in this article. Below you will find 16 jobs that you can do online and work from anywhere in the world. Have fun!
Working online from anywhere: that's how it was for me
I remember how I was sitting in one building all day and working. I had to do my work in the given time there, regardless of whether it was actually used effectively.
How can 30 days of vacation a year be enough to see the enjoy ? How can I live my life the way it feels right for me when I have to spend most of my life in an office? "
That hasn't changed in all these years. In my last permanent position I have high hopes that it will definitely be what finally feels right. I fought there for exactly one year and tried to make it nice to myself.
But this uncomfortable feeling and the frustration about the structures there, the environment and the office, which I would simply never choose myself, was no longer bearable at some point. And then I dared – the step into self-employment.
For me, the independence of location actually came via a detour. I actually wanted to be self-employed and I was looking for a job that I can do flexibly from home in parallel.
I came across virtual assistance through a online friend . And in the end, my own business felt and developed so well as a virtual assistant that I just focused on it.
I'm excited and able to work from anywhere when I want, where I want. This is simply the best thing that could ever have happened to me professionally.
The freedom and flexibility to be able to work online anytime and anywhere is for me pure luxury.
Today I support my customers in online marketing . I revise websites, write newsletters, plan social media and flexibly support my customers in a wide variety of tasks.
And now you – you can work from anywhere!
I just wrote about myself sound familiar to you? Would you also like to be able to work online and thereby make yourself independent of location?
Believe me your path doesn't have to go through any training. Now, there are countless ways to work online from anywhere.
There are many companies that offers employees to work from anywhere, regardless of location.
Market is now full with numerous jobs with which you can earn money as a freelancer on the Internet.
As a freelancer, you exchange your time for money and support your customers, like me, with various services. With the right business idea and the right products, you can also build a scalable online business and earn money from anywhere in the world.
So, in the next step, let's get to the various jobs you can work with online. I've broken it down into the following three areas:
Online work in permanent employment
If you are currently employed or would like to look for a new permanent job, nowadays you have more and more opportunities to work regardless of location.
Many companies now work exclusively with remote teams, and this trend is growing.
Many companies that offered "normal" office jobs a few years ago are now recognizing the many benefits of being out of place.
Because employees are often more satisfied and significantly more productive when they have the opportunity to work from home. More and more studies and surveys confirm this.
Is it perhaps even possible in your area to work regardless of location and at the same time remain an employee? If you find that going to the office every day is the only factor that annoys you, consider this possibility and think about how you can best raise the issue with your boss.
But if more than just getting to the office or working on site annoys you and you would prefer to work more self-determinedly, then you have a variety of options available to work from anywhere and your r be the boss!
That's why there are now 16 jobs for which you no longer have to go to the office!
Working online as a freelancer
01. Virtual Assistant
In my opinion, the virtual assistance (VA) is the ideal way to start your own business.
Virtual assistants support their clients with a wide variety of tasks, the little word "virtual" reveals that everything happens completely online and therefore independent of location.
Tasks that virtual assistants often take on include:
Back office
Internet research
Data and address recording
Customer service
WordPress
Social media
online marketing
In the meantime there are many specializations – as "Virtual Assistant for XY", "Virtual XY Assistance", etc. – depending on which area the respective person comes from and where their focus is.
That means, you too can start out super easily as a virtual assistant by offering what you have done so far – just virtually.
You can find your first jobs as a VA e.g. B. here:
Facebook groups for VAs and clients
And many other freelance platforms
02. Blogger
One of the probably best-known jobs for working online from anywhere is of course blogging . You only need your laptop and a good internet connection.
With the takeover of TravelWorkLive, I also became bloggers and I am super grateful to now have my own platform, which I can design according to my ideas.
With your own blog, you have the opportunity to report on your favorite topics or to occupy lucrative niches and thus become an expert.
As a blogger you can earn money online, among other things:
Via affiliate marketing that you like and recommend to your readers and receive a small commission from the advertised company

via guest articles that you publish on your blog,
about your own articles that you write (keyword VG-Wort, there will be an article soon) or also
about products that you sell to your readers through your blog.
It is no longer that easy to make money quickly with a blog online, as there are simply a lot of blogs.
That's why it's important to choose a topic that you really like and that you enjoy. This way you stay on the ball in the long term and don't give up too early.
But once it's up and running, a blog is a great way to be able to work independently and from anywhere.
03. Copywriter
If you enjoy writing and as well good at writing, then there are many more ways you can make money online. Because you only need a laptop to write and are not tied to a particular desk.
Jobs where you can earn money with your texts include: B .:
Content creator
Copywriter
Ghostwriter
E-book author
If you are interested in the topic, you can find more information here: 10 alternatives on how you can earn money with other websites
04. Corrector & editor
If you enjoy working with texts, you could also work online as a proofreader or editor.
And the need here is great whether for company publications, online shops, blogs or magazines. There are texts everywhere that need to be checked and corrected.
As a proofreader you will check the spelling, grammar and typography. As a lecturer, you also pay attention to whether the overall concept is consistent – i.e. content, structure and the logic of the texts.
Of course, good language and written skills are required here, so that a certain education is an advantage, but as a career changer you should also find good opportunities. The need for good content – online and in print – will certainly not decrease.
05. Translator
Working as a translator is also the perfect job that you can do from anywhere. You can find corresponding offers that you can apply for on Upwork or freelancer.com, for example .
06. Graphic designer
If you have experience in design, then of course you can also work great as a graphic designer online! Again, all you need is the right software, a powerful laptop and a good internet connection.
As far as your offer is concerned, you of course have many different options here – from print to online media to logo design, almost everything can be done completely online.
You will also receive your orders via platforms such as Upwork or freelancer.com , your own online portfolio or social media.
07. Online Marketing Manager or SEO specialist
If you are familiar with areas of online marketing and search engine optimization. Then, you have many options here with which you can make your knowledge and skills available to your customers.
Either like me as a freelancer, in which you help with the implementation of the technology as well as the creation and design of content or also act in an advisory capacity.
Online marketing and search engine optimization are constantly evolving. In addition, there are (yet) no classic training paths here.
On the other hand, the training opportunities on the Internet are now extremely varied and good. You can find good online marketing courses, for example, on Udemy.com .
08. Web designer
The job as a web designer goes one step further in the online world.
Here you plan and design the new online presence together with your customer and then go into implementation and program the page.
Appropriate training is of course a prerequisite here, but if you have one, the job of web designer is perfect for being able to work from anywhere.
09. Software or app programmer
In addition to programming websites, there are of course many other software and app needs that need to be developed, designed and implemented.
You also have a great opportunity to earn your first passive income. There is always the opportunity to develop software for other companies as a freelancer. So take a look at the portals already mentioned (e.g. Upwork or freelancer.com , there are sure to be some jobs).
10. Accountant
In order to work online and live anywhere, you don't necessarily have to be a professional in online marketing, web design or programming.
Even if you come from the accounting field, many sole proprietorships and companies are super grateful if they can get external support for bookkeeping, taxes, payroll and Co.
The nice thing about this work is that it occurs regularly. That means you don't need a very large customer base.
If you regularly support a few customers with their bookkeeping, you will enjoy a constant income and still be independent of location!
11. Photographer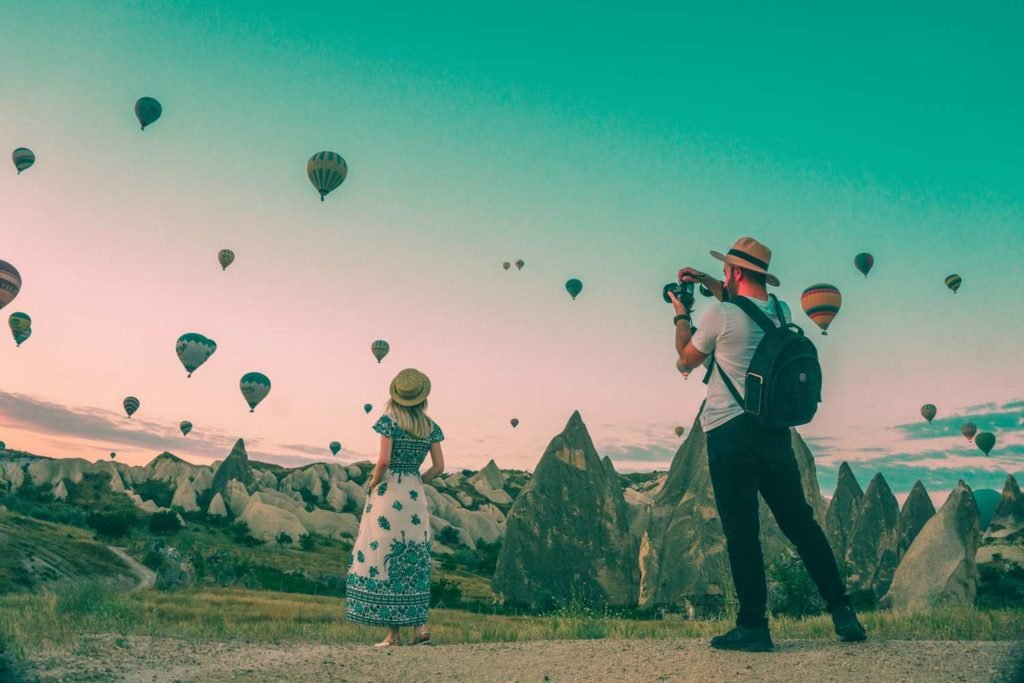 If you have a good eye and a knack for the camera, then you can also earn money as a photographer online and work from anywhere.
You do not necessarily have to offer your work on site, but can upload and sell your images on platforms such as Shutterstock , GettyImages or iStock .
Here, too, you generate a first passive income in the long term – once uploaded, interested parties can buy your photographs again and again without you having to do anything again.
The competition here is also increasing more and more, but Shutterstock can give you information on which motifs are currently particularly in demand.
Thanks to your independence of location, you can then tailor your travels accordingly in order to shoot the best pictures accordingly.
12. Videographer
In addition to photography, you can of course also specialize in video production.
Although you are not completely independent of location when filming yourself, you can support your customers from anywhere in the world when cutting and editing.
13. Language teacher
In addition to consulting and production, there is of course also the opportunity to pass on your knowledge in the form of lessons and work from anywhere.
There are now some platforms on which you can register as a language teacher.
Of course you can also find students via your own website or you can produce an online course that you can e.g. B. Sell on Udemy .
14. Coach
If you enjoy working with people, are interested in psychology and personal development and want to motivate, support and inspire others, then you can also work as a coach.
You can easily conduct your coaching via Skype or Zoom and are therefore completely independent of location.
There are now some training opportunities on the Internet to train you as a coach.
Working online in e-commerce
If you want to go one step further and not just exchange time for money, you can also create your own online business in eCommerce.
This way you create a scalable business model. You can earn a lot more money by selling products on the internet just with your services as a freelancer.
15. Sell digital information products
The easiest way to earn money in online trading from anywhere is to offer digital information products.
The best way to do this is to have your own website. The products mainly include e-books, online courses and webinars.
Of course, you need a certain community and reach in order to sell enough products. But the work and perseverance are usually worth it.
If you offer good products and your target group has built trust in you, you will generate passive income with your own products in the long term.
16. Sell physical products
Creating your own online shop and building your own physical product on your website is one step further.
You can also use the Amazon FBA to create an online shop on Amazon. The FBA stands for "Amazon by Amazon", which means Amazon takes care of your storage, shipping and customer service and provides a platform for your online store.
Another option is drop shipping. Here your product manufacturer or wholesaler sends the goods directly to the consumer.
Orders, marketing and customer service are handled through your online shop. Drop shopping also saves you product storage and shipping.
Conclusion: There are more than enough options!
As you can see, there are more than enough options to be able to working online.
I am sure that there was at least one job on this list that comes close to your current job or that you could familiarize yourself with.
All it takes is a certain amount of courage, good preparation, a strong will and a certain amount of financial security.
The first step, however, is really to take advantage of the wealth of jobs that you can work with from anywhere.
The internet now makes so much possible. So let the whole thing sag a little.
Look at your current job again with a new perspective and consider which variant is the best for you in order to be able to work completely online. Soon and thus realize your dream of being independent of location.
Are you already working from anywhere? Or do you play with the thought? Which job would you most like to work online with? Tell me in the comments and if you have any questions, please do not hesitate to contact me!