Let me just say up front that you don't need to worry about whether ySense is real or fake if you're wondering. I have personally been paid by it numerous times. It is a legitimate, genuine, and safe way to make money. You can see payment proof in the image at the end of article.
But that does not necessarily mean it is the best choice for you. ySense currently provides many opportunities to make money online. So that, can decide whether or not to join:
Company History to understand ySense Is Real Or Fake
ySense, formerly ClixSense started in 2007 as a gpt site. It was also known as rewards sites and pay you to complete relatively short tasks online.
It was initially launched as a PTC site and was primarily recognized as a PTC site for several years. Since I personally did not enjoy ClixSense's PTC component, I mainly concentrated on the other opportunities available there.
ClixSense underwent some significant changes in the middle of 2017. This included getting rid of the PTC side because ClixSense chose to move forward without it due to the negative reputation of that line of business.
As it wasn't a great opportunity anyway, I personally was happy with the decision, and I believe it demonstrates how serious ClixSense was about continuing to develop the platform.
Then, in August 2019, they underwent some additional significant changes, including a name change and a move to a new domain (ysense.com). Thus, the platform is now known as ySense.
The majority of the options are the same, but there have been some great updates, and ySense has continuously released new upgrades since adopting the new name.
My Experience with ySense Is Real Or Fake
One of my favorite survey websites is ySense, where there are additional ways to make money. You can join from most countries, it has a low payout threshold, and overall, it offers excellent opportunities.
When it comes to survey websites and get-paid-to websites, ySense is one of the well-known brands.
But is ySense a legitimate, fantastic, and simple way to earn some extra cash online, or is it a fraud that should be avoided?
Being a long-time user of the platform myself, I have thoroughly tested it and continue to do so every day.
So let me just say up front that ySense is legit and it does pay you – I can attest to this because I've received payments numerous times; I'll provide payment proof later.
Nevertheless, this does not imply that it will be the best choice for you.
You will find all the information you require in this 2022 ySense review to help you decide whether it is worthwhile for you to invest in it or not.
My review is a little lengthy because the platform has a lot to offer, and I want to cover as much as I can to give you all the information you need to decide whether or not to join. However, if you're the impatient sort, skip down to the conclusion.
Pros:
numerous chances each day to earn money
Several countries offer excellent opportunities.
If you engage in daily activity, the extra bonus is nice.
favorable results in relation to time invested
You're given cash payment.
Several payment options are available
Cons:
Often, it takes clicking on several surveys before you find one that you qualify for.
Not every nation offers numerous opportunities.
You will not find lots of surveys
Overall, ySense is very user-friendly, and it appears that they are constantly adding new opportunities to the platform, which is fantastic for us as members. It is also one of the sites where I have personally experienced great success.
It is unquestionably a legitimate website where you can earn some extra cash, and in my opinion, it is also definitely worthwhile. As such, it is one of my top recommendations for totally free and simple online side hustle opportunities.
How much money can you make?
It depends on how many of the opportunities you want to use—there are many—on how much time you want to spend earning money and how much you can make on ySense.
It is definitely worthwhile to take part in surveys because, on average, the payouts are respectable given the time invested. There are however many other opportunities as well.
Particularly if you end up being one of the top earners and receive a portion of the weekly prize money, some of the offers have really high rewards, and the tasks can also provide some nice extra money.
You can also fairly easily qualify for the daily checklist bonus by being a little bit active, which is a great bonus that can increase your earnings by up to 16 percent.
ySense is one of the survey websites with a high potential for earning money.
It's crucial to keep in mind, as with all other survey websites, that this one won't provide you with a full-time income. If you anticipate this, you'll probably be let down and unengaged on ySense, which will prevent you from succeeding with it.
Options or Ways to Make Money with ySense
One of the best ways to make money is through ySense surveys, and there are many opportunities every day. Listed are the main methods or options which you can work to make more money. Top tier countries residing people will have more opportunities to earn.
1 – ySense surveys
Participating in paid surveys is the best way to make money on ySense. It is just a method of money on survey.
Due to its partnerships with numerous different survey providers, it typically offers a large number of daily opportunities for taking paid surveys.

Be aware that you probably won't be eligible for all of the surveys that are offered. I bring this up because I am aware of how frustrating it can be to click on surveys that are available only to find out you don't qualify.
Your ability to take part in a given number of surveys will vary depending on your location, age, etc. You won't be able to participate in all surveys on any survey site, not just ySense.
Therefore, if you click surveys and they aren't available, just wait a moment and keep clicking. In most cases, there will be many available surveys, and they are typically pretty well paid relative to the time spent compared to other survey sites.
After some time, you will also learn what kinds of surveys you typically qualify for, and you can then disregard the others to save time.
The rewards you receive can differ significantly between surveys and between countries, as you can see in the image above. However, in comparison to many other survey websites, ySense surveys generally pay quite well.
Remember that in addition to the surveys you can see, there is a section directly below the surveys where you can see the daily survey routers ySense has a partnership with.
This indicates that you can click here to search for additional surveys that are currently open. This is a great way to discover new opportunities, though it may require some patience to locate the surveys you are eligible for in that section.
The option to participate in a daily poll is another recent addition to ySense. You only need to answer this quick question once, and you will receive $0.01 for doing so.
You can find the daily poll by scrolling to the bottom of the ySense survey page, and you should make sure to do this every day and completing the survey.
2 – Micro online tasks
You could perform quick online tasks through something on ySense called Appen Tasks (previously CrowdFlower and Figure Eight).
Unfortunately, this income opportunity vanished at the start of 2021.
Nevertheless, I felt the need to bring up this option since many are curious as to what went wrong and whether or not it will once again be a means of making money on ySense.
I want to be clear right now that the Appen tasks will not be reinstated.
In fact, the company that runs the Appen tasks has decided to only offer them through the Appen website, so they have taken it down from all the partner sites that previously had this option (including ySense).
However, ySense is working on introducing new ways to earn, and even without the Appen tasks, there are many fantastic ways to earn here.
3 – Paid offers

Paid offers are the focus of an entire section on ySense. You will gain access to a wide range of special deals provided by ySense's partners through this.
Many of the offer walls on ySense are the same as they were on ClixSense, but some that weren't so great have been removed, and new ones have been added. On the website, they also state that they will continually roll out new promotions.
Examples of offers include the chance to test out new goods or services, download software, play games, register for websites, watch videos, participate in giveaways, and more. In contrast to similar websites, ySense gives you access to a large number of offer walls, as well as some of the best offer walls currently in existence.
You can check the terms and the amount of the reward before accepting an offer. Offers can be a fantastic way to increase your income. It is worthwhile to regularly review the various offers because some of them offer modest rewards while others offer extremely high rewards.
Before accepting any offers, make sure to read all the terms and conditions so you are clear on what must be done in order to receive your reward. Some offers have excellent terms and are simple to accept, while others, in my opinion, are not worthwhile. So make sure you are aware of the terms.
4 – ySense Watch or watch videos

The ySense Watch is the most recent addition to the earning options. In this area, you can make money just by watching videos.
You need only select your preferred video topic or channel, and there are almost always pertinent topics available.
After that, you will be directed to that category's content where you must watch a video for a predetermined period of time. When it's time to move on to the next video, a timer will let you know.
You must watch a number of videos in order to receive your reward, and you can always keep track of how many are left until you are paid. There will typically be 7–10 videos.
This typically pays between $0.02 and $0.03. As a result, the earnings are not enormous, but they are still respectable when compared to many other websites that offer videos as a means of income. The benefit of this option is that you can always find a way to make money, even if it's not much. On the plus side, it's also entertaining.
Just keep in mind that this choice is currently only available in the US. If you cannot find ySense Watch when you login, it is simply because it is not yet available in your country. ySense is working to make this option available in more countries as soon as possible.
5 – Get paid to play
One of the more recent ways to make money on ySense is by being paid to play games on your smartphone.
But it's only accessible via the ySense app (more about the app later).
However, if you enjoy playing games on your phone, this could be a fantastic side hustle for you.
You simply select "playtime rewards" under the "discover" tab after logging into the app.
You can download a variety of games from this page, and you'll be paid for each minute you play them. ySense clearly displays how much you will earn per minute and how much you can make overall from each game before you download any app.
In general, out of all the apps I've tested that provide playtime rewards like this, ySense's option is one of the best. This is a choice you should consider if you enjoy playing games.
6 – Activity bonus
ySense stands out from many other survey websites because it provides a fantastic additional earning opportunity.
You will receive an additional bonus known as the Daily Checklist Bonus if you complete a specific task each day. Due to the size of the subject and the need for a separate section, I will go into more detail about it below.
Joining ySense and taking advantage of all of its offers are both free.
7 – Invite friends to join
Inviting others to ySense is another way to make money. It is called a ysense referral.
ySense will initially give you a 20% commission of whatever the people you refer make. You will receive a 25% commission if you have more than 100 recent active referrals; if you have more than 200, you will receive a 30% commission.
As ySense will pay the bonus as compensation for your referral, the commission will have no bearing on the referral's earnings.
8. Daily Checklist Bonus
A daily checklist bonus is something that ySense offers, as was already mentioned, and it can be a great way to make some extra cash.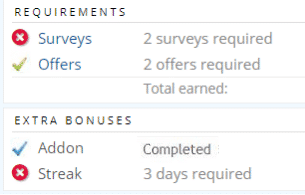 It might be a little confusing when you first join, but it is really quite easy. But I will now explain how it functions and how much extra it can make you in order to make it simpler for you and ensure that you are aware of it from the start.
Simply put, if you meet the requirements for the bonus that day, it will be added to your account balance at the end of the day, and you could make up to 16 percent of your earnings.
Qualifying is not that difficult. You can always see how close you are to receiving the bonus on your personal account page for that day (see picture above).
You must either complete two surveys or two offers to receive the bonus.
You can combine these to be eligible for the checklist bonus, but not everyone has the same opportunities to complete surveys or take advantage of offers.
So, by completing 1 survey and 1 offer, you can also be eligible for the bonus.
You will receive the daily checklist bonus and a 12 percent deposit into your account at the end of the day if you complete one of the aforementioned options.

You also have the option to increase this bonus further. Installing the ySense addon, which is a browser extension, will increase your earnings by 2 percent.
The fact that this is now available for Chrome, Firefox, and Edge is a fantastic expansion from when it was only available for Chrome when it was ClixSense.
You will receive notifications from this add-on when new surveys, tasks, etc. are available. You will receive an additional 2 percent if you have it running for at least an hour on a day when you are also eligible for the checklist bonus.
You can obtain the bonus in addition to using the browser extension. Additionally, it is a great way to stay informed about new job opportunities that are posted on ySense without frequently logging in.
Finally, if you complete the checklist bonus three days in a row, you can earn a 2 percent activity bonus. Be aware that the activity bonus will be reset if you don't meet the requirements for the day's checklist (see picture below for an overview).
Therefore, you have the chance to receive an additional 16 percent into your account by engaging in a specific activity on ySense. The bonus will be credited to your account at the end of the day on any day you meet the requirements for it.
This is a really nice added bonus that not many survey websites provide.
Bonus advice and tips
You can see an example of ySense use above. Just a few more pointers to make the most of the platform, which I want to add:

Bonus Advice 1: Look for surveys even if none are available
There might be surveys available even though it appears there aren't any at the moment.
There are some boxes or logos you can click on after selecting "surveys" to access survey routers. In some cases, even when it is not stated, this will give you the chance to participate in a survey.
So simply click them and check—I frequently have the ability to complete surveys like this. Which boxes will give you an opportunity vary depending on where you are in the world. Try it out, and after some time you'll be able to tell which ones are worthwhile for you to click.
Additionally, some of the offer walls have surveys you can complete, so be sure to check them out as well for additional survey opportunities.
Bonus suggestion #2: If you are unable to access some of the surveys, keep trying.
You may not be able to complete some surveys after clicking an available survey depending on your age, where you live, etc. This can be annoying, and you may need to click on a few surveys before you find one that you can take part in.
But there are plenty of surveys available, so keep trying even if you come across one (or more) that you can't take part in. You will eventually learn which types of surveys you typically qualify for, at which point you can just click those and disregard the rest.
Bonus recommendation #3: frequent site visits:
Visit the website several times throughout the day, if you have the time, as new surveys and tasks will appear and disappear throughout the day.
A different option is to add the ySense Addon to your browser. It is an excellent way to stay informed about new opportunities without frequently logging in.
4th bonus suggestion: Reduce weekend activity.
Be aware that ySense typically has less activity on the weekends. My knowledge indicates that there are typically very few surveys available on the weekends, so if you sign up during a weekend and discover few opportunities, don't give up.
Weekend opportunities are available, but there are fewer of them.
FAQ – ySense Is Real Or Fake
How do I sign up for ySense?
Getting registered is quick and simple. Simply click the following button. This will direct you to the ySense website. You must complete a brief registration before you can begin making money.
It only takes a few minutes to fill out a brief form about yourself the first time you log in. Of course, joining is free.
Which countries is ysense available or services offered in?
One fantastic aspect of ySense is that it is virtually available everywhere, just like ClixSense was. The opportunities available on ySense will, however, differ depending on the nation in which you reside.
However, if you don't have many surveys or offers, you might have great access to tasks. As a result, many countries have good chances. This survey site is one of the ones that offers the most opportunities to the widest range of nations of all the ones I've tested.
ySense cannot be used to take surveys while traveling because you are not allowed to take them from a country other than the one where you signed up.
ySense registration is only open to those who are at least 16 years old.
Does ySense work on mobile devices?
Yes, you can easily use ySense on your smartphone or tablet.
In fact, as was already mentioned, it has a standalone app that can be downloaded from Google Play or the App Store.
This makes it much simpler to access the surveys quickly, which is crucial because some of them fill up quickly. Furthermore, it will grant you access to the playtime reward option, which is not available on the website itself.
Overall, having an app for a survey or get-paid-to site is incredibly convenient and a great way to supplement your income while on the go. for instance, while standing in line, riding the bus, taking the train, etc.
It's wonderful to see ySense take the time to create one that functions well and is easy to use.
If you decide against downloading the app, you can still use ySense directly through your mobile browser thanks to the website's responsive design.
ySense Support
It always says a lot about a website or service how good its support is.
I have spoken with the support teams for both ClixSense and ySense on several occasions, and each time I did, I received a fairly prompt and helpful response.
When you contact their support, you will see that they state it could take up to 10 business days to respond. Fortunately, it won't always take this long because this process is quite slow. The majority of the time when I have contacted them, I have gotten a response more quickly, but occasionally it can take a little more time, which is something I hope they will also work on as they continue to develop the platform.
Additionally, whenever there are any updates, modifications, special deals, or other changes of this nature, you will be informed when you log in.
Additionally, ySense has a forum where you can ask a lot of questions and receive responses from other users and ySense staff. You can communicate with staff and other members in many languages besides English because there are forums available in many different languages.
As a result, ySense provides excellent support and keeps members informed, which I really appreciate. Other survey websites could undoubtedly benefit from this.
How do you get paid with ySense?
You can earn money on ySense whenever you take a survey, accept an offer, play a game, or do anything else.
One of the biggest changes following ySense's rebranding from ClixSense is the payout options. In the past, you could receive your money via Payoneer, Skrill, Dwolla, Tangocard, or check.
When it was introduced as ySense, one of the significant changes was that PayPal payment were made available. Many survey and get-paid-to websites use this as their preferred payout option, which is why they were able to implement it.
Additionally, the minimum payout amount for paypal account is only $10, making it a fairly low payout threshold. To get to this on ySense will still take too long.
ySense Payment Option and minimum payment amount
However, ySense has also added payout options with a lower threshold than it had with ClixSense. Amazon gift cards are now available after earning $5. Steam gift cards are one of the newest gift card rewards that the company has added, though they are primarily available in European nations while the other rewards are available worldwide.
Additionally, Payoneer and Skrill, which are both excellent options for receiving your earnings in cash, allow you to withdraw your earnings. So, in my opinion, there are some really fantastic reward options.
Typically, you can access your reward as soon as you complete a survey by visiting your ySense account. You must wait for some surveys to be approved before the money is deposited into your account (the ones that offer a higher reward). These surveys are identified by a tiny red flag, making them simple to spot.
It will be simple to see exactly what you get for each offer when you use some of the other opportunities on ySense, such as getting paid for downloading an app.
You could earn Clixcents for the offers back when it was ClixSense. Thus, this is yet another instance of how ySense has become more user-friendly.
You frequently have to wait 5 to 15 minutes before seeing these rewards in your account.
It takes 4-5 days for the money to appear on your preferred account after you have requested a payout from your ySense account.
Final Conclusion and My Opinion – ysense real or fake 
I've tested a lot of online paid survey and get-paid-to sites, and I can say with certainty that ySense is not one of them and it's worth your time. In fact, it offers real opportunities for people to earn some extra money legally. Working on ySense is not waste of time. In my point of view ysense legit.
I can attest from personal experience that it is legitimate because I have frequently used it to earn money.
But before you decide if it's right for you, check out the pros and cons.
Steps to Signing Up – ySense Is Real Or Fake
Simply follow these instructions to join and use ySense:
1. On their official website, click the Join Now button after entering your email and password of choice.
2. Once you are inside, you will be required to finish your registration by email verification.
3. Fill out your profile page completely (it's crucial to be truthful and precise so they can match you with pertinent surveys).
4. To become familiar with the platform, read the FAQs on their help page and browse the forum topics.
5. Start completing tasks and offers, as well as surveys.
6. Earn cash (your cash rewards are accumulated in your ySense account).
7. Best part… withdraw your funds 😉