Are you a bit stick and thinking to start working with the Humanatic.com, wait and look the detailed Humanatic review before to get in. In this article you will have an insight to decide is humanatic worth it to join or regretting of wasting time on the site.
Let get started with ………
What is Humanatic.com
Humanatic is a website that pays you to listening and reviewing phone calls. You can earn money by listening to a recorded phone call and answering simple questions, according to this website. It appears to be a fairly simple way to earn money, doesn't it?
Humanatic is a third-party company and it hires people all over the world to listen to recoded calls, and answer questions. In Humanatic, you will work as a call reviewer.
How much money can you make money working with Humanatic ?
You won't make much money per call reviewed in terms of pay. For brief calls, you will typically only make between 0.05 and 1.5 cents, and for longer calls, you may make up to 15 cents. The amount of money in respect to your work are less than other online jobs.
There is limited by the number of works available and you will not find lot of calls in your profile.
Your earnings are based on the number of calls you received and call availability. In addition, Your skills and the website category you fall under may have an impact on your income. Different categories receive varying compensation.
You can use your PayPal account to sign up for Humanatic. Via Paypal is the method of payment for Humanatics.
Pros and Cons of working for Humanatic – A Compete Humanatic Review 2022
This will help you to understand and conclude your thoughts where shall start working with Humanitic or just waste of time.
The Cons of working for Humanatic:
1. The pay is very low, and there is little room for advancement.
2. To earn $1, you must review 100 calls.
3. You'll need to be online for long periods of time to earn $20 for reviewing calls.
4. At times, it appears that the other employees aren't real people.
5. The company deducts your pay when you incorrectly classify or category the calls; you are penalized three times your pay.
6. You are frequently cheated out of taking calls.
7. Many of the auditors are incompetent and have no idea how to review the calls.
8. The company can deduct triple the amount of a call from your earnings.
9. They don't tell you how long it will take or how many reviews you need to do to advance to the next level.
10. It takes a long time to earn a few cents for listening to calls. For many people it can be time consuming online work. Many times, people do not say why they are calling, and it takes a long time to figure out why.
11. The calls are consistent, and you will not receive multiple calls in a row. It may take some time before more calls begin to come in.
The Pros of working for Humanatic:
1. You can set your own hours and work as much or as little as you want.
2. The work is simple, and the only advantage I can see to working for this company is the pay.
3. People enjoy listening to phone calls because it is relaxing.
4. No special skills are required to work for this company but listening skills required.
5. Because this is a global company, you can listen to phone calls from anywhere. A simple way to earn extra money.
If the above Hymanatic review, I mean pros and con sill tempted to you work with the site for humanatic review calls jobs, here is the way how to get started and to make money online from it. You can join this site by clicking here.
How does Humanatic.com work
You can only make money with Humanatic by reviewing calls, which is the only way to do so. This implies that you must first listen to the call before tagging it in accordance with Humanatic's instructions.
It is not necessary for you to listen to live conversation and calls or transcribe the entire conversation.
You have the option to fastforward and rewind while listening to calls. There might be some calls that need to be categorized.
Any specific skills do need to work with Humanatic
You must possess the listening skills, accuracy, and the capacity to comprehend various English accents are basic requirements for working on Humanatic.
You can choose how many calls you want to listen to and what hours you want to work as a paid listener. It is a good website for anyone looking for side income, whether they are students or not.
The earning opportunity with Humanitic – Review phone calls
Humanatic only provides one way for you to earn money: by reviewing calls. This means you must listen to the call and then tag it according to the Humanatic guidelines.
When you log in to the site, you will see all of the available calls for review (refer to the photo below). When you finish reviewing the call, you will also see the amount you will earn.
Simply pick a call that you want to listen to again. After listening to the call, you must classify the call type in accordance with their instructions or guidelines.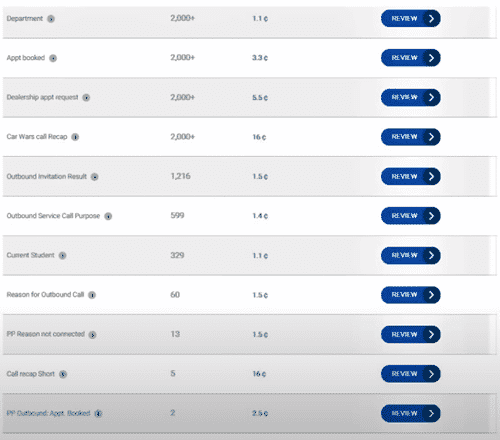 Therefore, before you begin reviewing calls, I advise you to study their guidelines and make sure you understand them because, as I'll explain below, they are crucial.
As you can see, the work is incredibly straightforward, but it can be challenging because Humanatic will evaluate how accurately you categorize phone calls. You must submit a call for verification after reviewing it and assigning it to a specific category.
The accuracy of your tagging will then be checked by Humanatic, and it will have an impact on your rating. The more calls you can review, the higher your accuracy rating must be. In order to continue receiving calls to review in the future, you must keep your accuracy rate between 95% and 100%.
You will lose some call types that you can review or, worse, your account will be deactivated if your accuracy drops below 80%.
Because Humanatic values accuracy over speed, being a quick reviewer won't always help you earn more. You must therefore carefully consider each call because it directly affects your account.
You must review the length of the calls; some are very short, while others are slightly longer. So there's no point in being rushed when reviewing calls because the length of the calls will be random. It is best to take your time and ensure that everything is done correctly.
You will not be paid if they do not approve your work, and you will have wasted your time.
Earning Potential and do you get paid
1. The company pays on Tuesdays. To be paid on Tuesday, you must request payment on Monday before noon. If you do not submit your request by the deadline, you will be paid the following week.
2. To begin, you will earn $1 to $4.50 per hour depending on your level. You can advance to higher-paying positions after working for the company.
3. To request a payout, you must have $10 in your account.
PayPal is the only payment method available. So, if you don't already have a PayPal account, I recommend that you open one if you want to become a member of this site.
Payments are processed on Thursdays and must be requested by Wednesday at 12:00 p.m. (Central Standard Time).
Any payout requests received after 12:00 p.m. (Central Standard Time) on Wednesdays will be delayed until the following pay period. As a result, you'll have to wait another week to receive your payment. You are only permitted to request one payout per pay period.
I like that they accept PayPal because it is one of the most convenient payment methods available today.
How to Join Humanatic Company:
Humanatic is available worldwide. You can become a member no matter where you live. However, in order to become a member, you must first have a verified PayPal account (refer to the photo below).
1. You must have a verified PayPal account in order to join the company.
2. To register with the company, log in to your PayPal account from their sign up page. This demonstrates that your account has been verified and that Humanatic can work with you.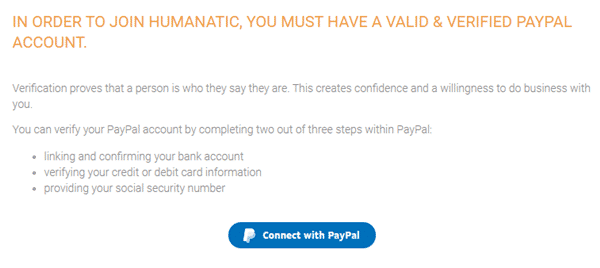 Humanatic Helpdesk Support
If you have any questions about the site, you can visit Humanatic's FAQ page. However, their FAQ page, in my opinion, is not very helpful. There are a few topics that aren't covered that I believe you should be aware of.
So, if you can't find the answers you're looking for, your only option is to contact them. The issue is that their website does not provide a way for you to contact their support team.
However, there is a way to contact a Humanatic representative. You can make your inquiry through their social media pages, as they do respond to your comments.
However, as shown in the image above, the majority of the common Humanatic complaints are about how they handle support.
According to their Facebook reviews, the majority of people complain about not receiving assistance from their support team.
This is an absolute no-no for me. In my opinion, providing support for your members should always be a priority, and it appears that Humanatic does not put forth much effort in this regard.
Overall, I would say they do not provide adequate support to their members.
The absence of a contact form on their website is already a red flag. Furthermore, the complaints on their social media pages exacerbate the situation.
You can work with Humanatic on Mobile
Humanatic is mobile-friendly, and they have app.
The benefit of Humanatic is that you can review calls on your mobile device. As a result, you don't actually need a desktop or laptop to earn money. They do not, however, have a mobile app that you can install on your device.
If you want to review calls on your mobile device, you must use a mobile web browser to access their site. Their website is mobile-friendly, so you won't have any trouble navigating it.
This can be extremely beneficial because it allows you to earn money even when you are not in front of your computer. You can listen to calls in your spare time or pretty much anywhere. Simply ensure that you have a stable internet connection.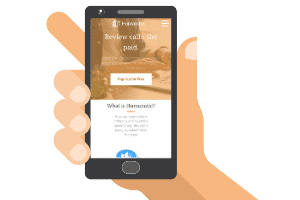 Humanatic Alternative
There are many large companies that are looking for third-party services to analyze and evaluate the interactions with their clients.
The tasks involve listening to the calls and reviewing how well the customer inquiries and queries were handled by the customer service.
Reynolds and Reynolds
This company offers automotive retailing services, such as services for client interactions and car dealerships.
A call analyst and a part-time call quality analyst are among the positions available. The job entails listening to calls between clients and their customers and reviewing the calls based on criteria provided to you.
To apply for this position, go to their website and search for it under job openings. After reviewing the job description, send them an email with your resume and cover letter. If you meet the hiring criteria, you will be called in for additional assessments and interviews.
Callsource
Callsource is a company that provides insights to help their clients solve and improve their engagement with their sales performance data.
They work with call-tracking technology, which allows them to record and analyze calls in order to help their clients with their interactions with their customers.
As a call analyst, you can work remotely with Callsource. Despite the fact that the majority of the jobs are done on a contract basis.
Listeners
Listeners is a website that compensates you for listening to callers on various topics. You make an account based on your area of expertise and interact with others. It necessitates more interaction than other websites, but you are compensated per minute.
Humanatic Review Calls – My opinion
Humanatic, in my opinion, does not provide a lot of value. The bottom line is that it does not pay well. So, even though they have a relatively low payout threshold, it will still take a long time to reach because you will earn next to nothing for reviewing calls.
In some cases, you will have to review thousands of calls just to meet the threshold, which will take a significant amount of time and effort that you could better spend on sites with higher earning potential.
Complaints about their support are also concerning because there is no guarantee that they will assist you in resolving any issues.
I would advise you to instead visit the most popular GPT and survey websites in your nation. In my opinion, each of the websites on this list has a higher earning potential than Humanatic. Additionally, you can always turn to their support staff for assistance if you run into any problems or have any inquiries.
If you have any thoughts, queries, or personal experiences with Humanatic, please share them in the comment section below.
At the end I don't recommend this company. You may invest your time to search a good part time job, nonphone job, call center work on the job portal. Here are the some name like indeed.com, glassdoor.com, sitejabber.com etc.
Humanatic Review – Frequently Ask Questions
Humanatic legit or is it a scam?
You should be aware of this before signing up so that you do not waste your time on a site that will not pay you.
This Humanatic review will give you all the details so you know exactly what to expect and whether it is worth your time.
Are you looking for ways to make money online? There are also numerous survey and Get-Paid-To sites where you can earn decent amount.
If you don't feel like answering surveys or completing microtasks, there's a website called Humanatic that provides another way for you to earn money.
According to this website, you can earn money by listening to a recorded phone call and answering simple questions. It appears to be a simple way to make money, doesn't it?
Is Humanatic a good company to work for?
3.3 out of 5 stars have been given to Humanatic overall based on more than 86 employee reviews. 39 percent of employees are optimistic about the company, and 57% of employees would recommend Humanatic to a friend. Within the last year, this rating has increased by 5%.
Does Humanatic pay their employees well?
Humanatic employees who gave anonymous Glassdoor reviews rated their compensation and benefits 2.5 out of 5. Learn more about Humanatic's pay and benefits. Over the past 12 months, this rating has increased by 13%.
Is Humanatic a trusted site?
It's legal to make money online by listening to recorded phone calls on Humanatic. My job has been wonderful from the beginning for more than a year. For signup and money withdrawal, you must have a verified PayPal account. It is good trusted site for home job.
Can you make money with Humanatic?
Humanatic was a fun and simple place to work where you could quickly and easily make money. I liked that all I had to do after school was sit at home and complete the work. I worked for four hours a day, earning $2 to $10 per day in the beginning.
How do I contact Humanatic?
Email support@humanatic.com to get in touch.
Telephone: (214) 280-6734
Conclusion and Final Humanatic Review
Humanatic is a legitimate company to work for. However, this company only pays a few cents to listen to phone calls. It is a low paying work.
A person is penalized if they do not correctly categorize a call. The company will deduct three times the amount of the call from their pay.
If you were paid $0.01 to listen to the call, the company will deduct $0.04 from your account if it is incorrect. The only real benefit I can see is the ability to work from home.
Furthermore, you will only earn a few dollars per week listening to calls from this company. They have a very high turnover rate, and people don't stay long because of the pay and how much money they deduct from their accounts.
If you no long wish to be work on Humantic, you can chose deactivate my account option.