Based on my working experience, I am writing this Latium review revealing all the details about Latium.org freelancing site. What the site has to offer, so you will know what to expect before you even sign up. Then you can decide whether it is right for you. So, let's move ahead and take a closer look.
Do you know that in the world of illegal online job opportunities, it is good to go through the review of the site before to start. So, let me address this concern right away here by review about Latium platform.
First of all, Latium.org Freelancing Site is not a scam. Indeed, it is a legit micro-job site where you can earn by completing jobs.
What is Latium.org – A short review about latium
Latium.org is a micro-job site that will pay you for completing small jobs. It is a great place to find jobs that you can do at home. The jobs are varied, and the earning potential is high. You will need to put in some effort, but then it is all worth it.
In a quick Latium review, I can say that the Latium Freelancing platform is a quick and easy way to make money. Complete tasks in the Instant Hire section of the website and get paid for them.
You can also earn money by place a live bid on one of your desired projects. You will be able to work with cryptocurrency as well, giving you the opportunity to get paid quickly.
Who can join Latium Freelancing?
Latium freelancing is available around the world. You can sign up as a freelancer regardless of where you live, but you must be at least 18 years old.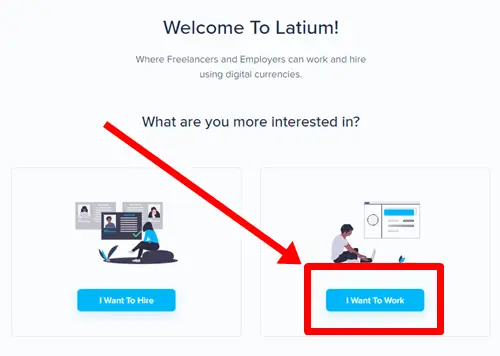 To start, just click on the "Sign Up Free" button that can be found on their homepage. After that, you'll be asked to provide your email address.. Once you've done that, you will receive an email confirmation. After that click the link in the email to confirm your registration.
To start, just click on the "Sign Up Free" button to sign up for it. You will then need to provide your email address.
You will then see something similar to the image above. Click the "I Want to Work" button to become a freelancer. Once you've done that, you'll have to fill out the rest of the form with your login and profile details.
As soon as you've completed the form, you can now log in to the site and start bidding on projects.
How much money can you make as Latium Freelancer?
Latium Freelancing can make you a lot of money, but it really depends on how much time you put in. The longer and more often you work, the more you can earn. You can get paid from $50 to $100 per project completed, which is a significant amount.
It is likely that we will see more "smaller" jobs that are quick to do, but of course they are not as rewarding as larger jobs. This makes latium review good.
I think that every project pays fairly with a mix of higher and lower budget projects. It is your job to figure out which job is for you. The good news is that you tell your pay rate for each project, but it still has to fit within the employer's budget.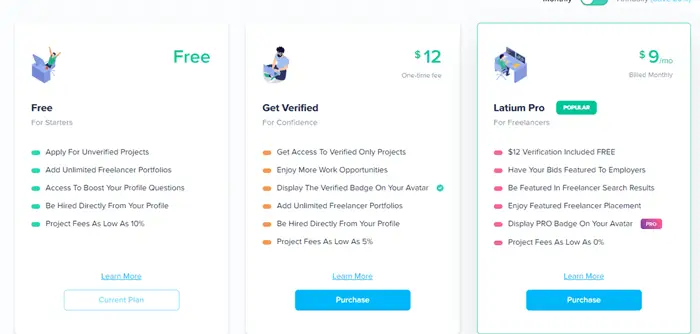 There are 3 types of freelancers, the free, verified, and pro. Each type comes with advantages and disadvantages.
The free plan will cost more than it does on the verified plan. The lowest fee is 10%. You can lower the project fee by paying $12 for verification. Being on the verified plan will give you access to more projects.
The Latium Pro freelancer package is a great way to get going with Latium. It costs $9 a month and includes free verification and low project fees. For freelancers, the Pro plan is the best because it offers more jobs and lower project fees.
You need to make sure you complete the project each month in order to cover the monthly fee of $9.
Overall, the potential earnings for Latium Freelancing are quite good. However, since the jobs available are not really that simple, you will need to invest a lot of time. You can work on shorter projects but those do not pay that much.
Projects that pay more than $100 usually require a significant amount of time. In my opinion, they're almost like having another part-time job.
How to Start Working with Latium.org
To start working as Freelancer, you have to go under a registration process. Go to Latium.org and select "Sign Up Free"
From the "Sign-Up" page, you'll be asked for a few standard bits of information, such as your name and email address. These details are used to create your Latium Freelancing account. Easy sign up process give a good review for latium.
Input your email address to confirm registration. You will receive an email with a confirmation code that you will need to input here to complete registration.
Input the Login Code as received in your email box
Next, you will be asked to choose either "I want to create projects as an employer" or "I want to earn as a freelancer." Keep in mind that for this post we will choose the "I want to work". So keep going through the freelancer process.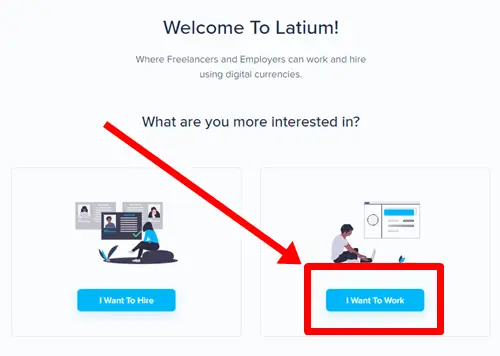 After you've selected to work, we'll ask you a few questions to make it easier for employers to find your profile. You have to complete the On-Boarding questions so that employers can find you more easily on the site.
On-boarding Process
First, you should upload an avatar. This is a thumbnail photo that employers will see when looking at your application or contract submissions.
Add Biography
Next, complete a short bio that states who you are, what you are looking for, and what you can do for them. Being specific and unique helps you stand out from the crowd and better identify why you are the right person for a specific project.
Add Skills
After you write a short bio for yourself, you can start adding your skills to your profile. You should add at least one skill, but you can add more if you want. To add a skill, first search for an existing skill or create a new skill and input your experience level for the given skill.
Set Your Hourly Rate
Next you can set an hourly rate for your skills and experience. It's a good rule of thumb to be competitive with the rates of other freelancers in your area while considering the type of expertise you have.
Portfolio
Last, you can optionally create a portfolio to showcase your best work and your most relevant experience. A good portfolio should include the following information:
Cover Image: A kind of image that serves as a thumbnail / cover to your portfolio
Title: A brief title for your portfolio
Skills: Specific skills that apply directly linked to your portfolio of work
Description: A description with detailed info of the work completed within your the portfolio of work or intend to offer.
You should always have at least one example in the following format:
Image: An image example of your work
Video: A video example of your work
Link: A direct link to your portfolio work
Finally, you will be able to see the finalized portfolio that you've created. You will have a preview similar to what is shown below.
Simply click "Finish" to complete your on-boarding information and apply it to your Latium Freelancing account.
A work review with Latium.org – How I work and make money
After completing successful registration with latium platform, your next step is to browse projects by clicking the "browse" tab as shown below:
Once you click on the browse, you will see the job category as shown in the below image at the left side of the site.
When assessing a possible project, there are several key pieces to pay attention to. These include, but are not limited to, the project's size, scope, complexity, and timeline.
The information available before opening a project details are as follows:
Cover Image: The Employer uploaded a picture to show their project.
Employer Display Name: This is the public display name of the Employer who is hiring for tasks.
Employer User Name: The full, unique username of the Employer who posted the job.
Project Description: The overall detailed of the project
Reward: The amount paid after your project has been completed with a review. The payment is the equivalent of the current price of the token, which is displayed in USD.
Paid In: The token that is being used for this project
Detailed Project Information
Upon selecting a project, you are presented with all the necessary work you must do before you apply.
In example above image, you can also see the two labels attached which describe further information regarding the freelancing project.
Specifically:
Instant Hire
Verified Only
Instant Hire means that the project instantly hires after you select Start Project Now. In some cases, Employers can also choose these options for hire:
Instant Hire
After Review
Receive Bids
List of Tasks review which I do on Latium Freelancing Site
I work with latium selected category of job in order get the payment immediately. I prefer you also to choose instant hire project to get paid for your work instantly.
Registrations
Under this category, tasks are easy to complete and can be done by free members or verified members. There are different types of tasks available and they are well-paid.
Here is one example of task.
Easy registration 2 minutes job
Freelancer has given instructions how to complete the work. Follow these instructions and you will be paid for your work. You have to submit screenshot proofs of your work to receive payment.
Surveys
Under this category of task you will answer simple questions and then get paid. This task is available to free members and it is not mandatory to be a verified member to complete this type of task.
You can find this task with high pay and variety of tasks. It is not a survey site that offers surveys. Here you will get paid for you work not for qualify the survey site alike.
Here's a simple task for you. It won't take much time – Earning Opportunity $5 (Short Opinion survey – 10 min max)
Here in this image, you can see what freelancers are looking for. They're in need of quick and easy usability testing for a new affiliate portal.

They want to test a user signup, confirmation and profile share. They want to figure out if the layout for multiple users in different areas and browsers is working well. You have to submit screenshot proofs of your work to get payment.
Usability Testing
There are some people who post tasks over here to get feedback from the users of their site or application.
They want to see if everything is working properly and want feedback from other users. All of the tabs and posts are shown in a well-mannered way. The website's design is also very good.
Here is one example of task.
Test Register, Confirm, Login, featureset – Earning $ 10 – $ 15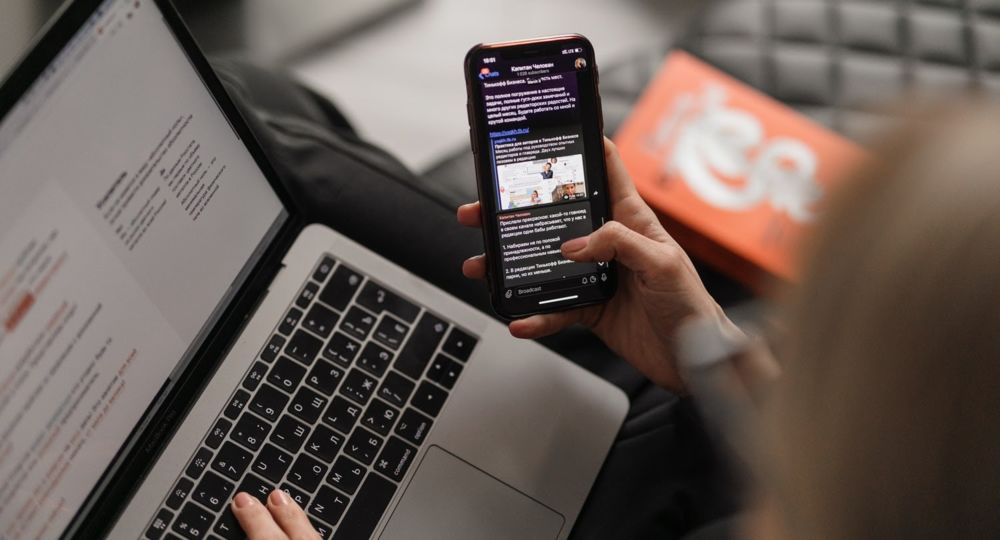 The blow are given the Instruction to complete the work for this job
1. Instruction Usability testing needed, including but not limited to:
– Register
– Confirm account
– Login
– Profile edit (avatar, details, etc.)
– Platform specific features (outlined in provided documents)
Expected to take about 3 hours to complete. No QA / testing experienced required.
App Downloads
Another easy task you can do on Latium Freelancing site under this job category. You will see plenty of projects available. Task are very simple, easy. Tasks are easy and accessible for anyone.
Here is one example of task.
Referral program
Sharing a referral link is one way to make money on Latium Freelancing. All you have to do is share this link with the person you want to invite. When they click the link and register, they will be your referral.
It doesn't matter if they sign up as a freelancer or an employer- they will still be your referral. The reward you will get is a 100% bonus for each referral.

You get 50% of the exchange fees paid by your referral on the Latium Exchange. You'll also get 25% of project fees, 10% for any new subscriptions, and 10% for any verifications.
The money I'm making from referrals is great, trust me. It's easy to start and the commissions are pretty decent. It's especially helpful when you're working with employers and they send you people.
You just have to make sure the people you invite are really interested in working on Latium Freelancing. Otherwise, it will be just a waste of your time.
Alternatively: You just have to make sure the people you invite are really interested in working on Latium Freelancing. Otherwise, it is a total waste of your time.
Conclusion
The Latium Freelancing platform provides users with the opportunity to work and hire for cryptocurrency. This latium review is based on my work experience with latium.
Freelance workers can place bids on projects, while working on Instant Hire microtasks to earn quickly. Employers can post projects, accept bids and manage thousands of freelancers easily and efficiently.
Latium workers can be paid with digital currencies such as Bitcoin, Ethereum, and the Latium Digital Token, along with the ability to withdraw their earnings immediately.
FAQ – Frequently Asked Question
Is Latium.org legit?
Latium freelancing allows freelancers to be paid in crypto-currency on the blockchain. According to reviews, it has an average rating of 4.5 stars. As long as Latium freelancing pays their users, it is a legitimate site.
I have been working with Latium Freelancing for a while now and I am not convinced it is a scam. You may earn money by completing tasks and it is legitimate.
I have never seen anyone get scammed on Latium Freelancing, because it is a legitimate site where people can complete tasks for money. This site can be your perfect freelancer platform for micro task.
Can we use Latium Freelancing site on mobile?
Although Latium Freelancing does not have a mobile app, it is still mobile-friendly. You can use your phone's browser to navigate the site without zooming in.
The site is optimized for your mobile device and will not require you to zoom to read the content. Latium Freelancing doesn't have a mobile app, but you can use your phone's browser to navigate their site without zooming in.
How does Latium pay?
Ok, here's the tricky bit. How do you earn money with Latium? First, you'll have to complete a project. You can choose to earn either in Latium or in USD, depending on what the employer wants
Payment is displayed on the project details page. So you can see how much you'll be paid for your work after completing a project.
How do I get a job review at Latium Freelancing ?
Latium Freelancing is a website that matches employers with freelancers. To become a registered user of the site, you must fill out the form and complete the registration process.
Once you're registered, click on the Browse Jobs button to see all of the available jobs. You can choose jobs based on your skills and hobbies. Once you've found something you want to do, click on the "Accept" button and then go to Tasks to complete the task.
Latium Freelancing Review
As far as the latium review, it is four and a half stars. This high rating means you should work with Latium. You can see in the image trust score of latium site.
Latium Freelancing is a blockchain-based online freelance marketplace. It pays freelancers and has a 4.5 rating in the market. As long as Latium Freelancing pays its users, it's considered legit.
Sign up process of Latium Freelancing account
Latium Freelancing sign-ups are a piece of cake. Head to the sign up section and click on the tab. Fill in your basic details, like your name and email address, and complete your profile with an overview of what you can do and what you know.