When I started making money on the Internet a few years ago, ySense (formerly ClixSense) was my first website. ySense started in 2007 and until October 2020 and it is one of the most successful PTC sites in the world.
You will earn up to 2 cents per click. Even if it only cost a few cents a day, I enjoyed clicking and started this blog at some point to share my experiences.
Is ySense (formerly ClixSense) the best paid to click provider worldwide?
This review was originally written for ClixSense. The site has since been renamed to ySense but retains its functions.
If you ask Google about the best paid to click site, you will often see the name ClixSense. It is a classic PTC provider website, but you can also earn money through numerous opportunities and not just looking at advertising.
The design, reliability and usability of ClixSense are rarely matched by the many competitors. Because of its simplicity and reliability, this site has also become my favorite PTC provider.
ySense Features at a Glance
Rating 4.50 – ySense





Operator Name: James Grago, Hampstead
Country: USA
Start of Service: 2007
Total Payouts to Members: € 36,134,781.00 Payouts
Received: 24
Ref Pay : 1 Level (20%) + 10-30 $ cents Instant Credit + $ 2 one time payment
Minimum age: 13 years of
earning potential : 0.25 – 5 US dollars
Payout limit: € 8.00
Payout options:
Earning opportunities with ySense
Offers – paid online survey
Here you can earn money by actively participating in paid surveys. Surveys are remunerated between 10 cents and 3 dollars. The number of available surveys is displayed in the top left of the account under the item " Paid Surveys ".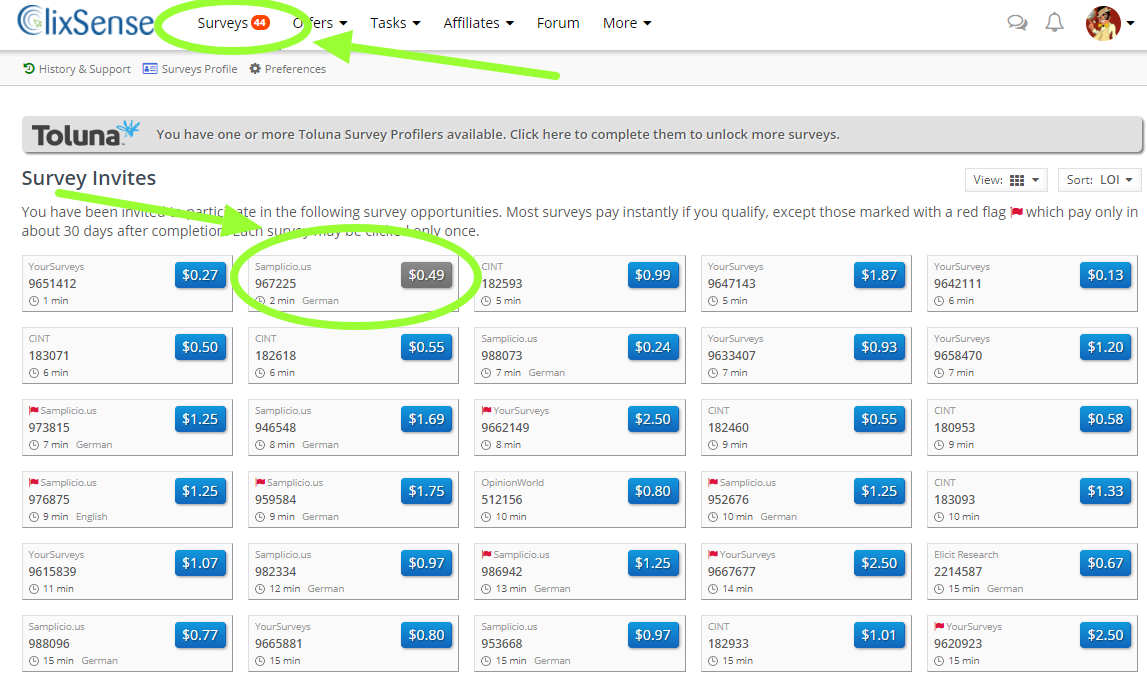 Some of them are also in German, but most of them are in English. In addition, you can also have other services activated ( offers ) in order to receive even more paid surveys and thus earn even more money online.
Every day there are numerous really good surveys that are directly remunerated, as well as campaigns that you look in vain with other providers. Paid youtube videos, paid logins to computer games and more. You just have to try it.
Daily bonus
If you are busy and active on ySense every day, you work off a kind of daily to-do list.
If you have the checklist complete (2 clicks on advertising, 10 ClixGrid clicks, 10 tasks, 2 offers, visit to the forum), you will receive a bonus of 5% on your daily income at the end of the day. 
Micro tasks – a good additional income
If you go a little to the right on the main navigation, you will see a point named "Tasks". There you will find small tasks to do it and will earn few cents. You certainly won't get rich here, but you can still generate some additional income with it and you get closer and closer to the payout limit.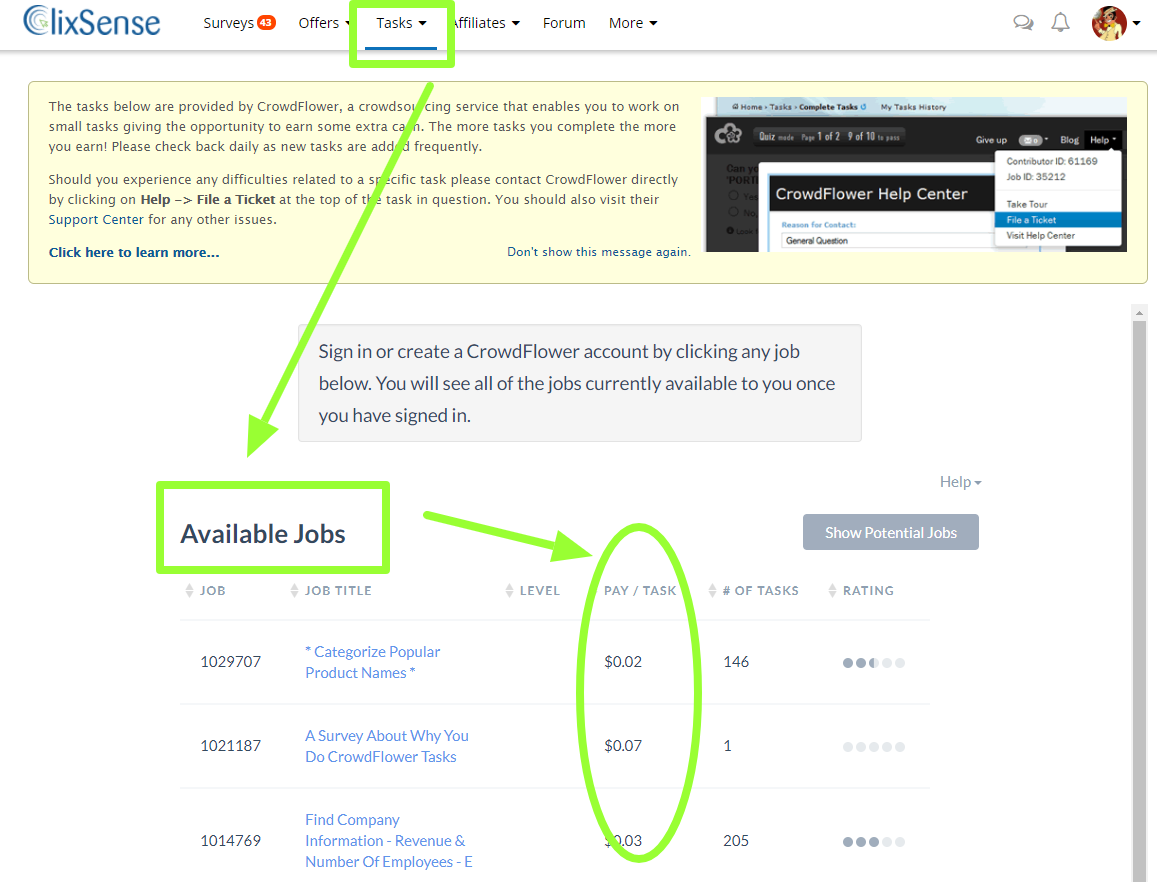 The ySense tasks are small tasks that have to be fulfilled, whereby there are different amounts of money as rewards for each task at ySense.
The tasks are therefore a good source of money, especially because many tasks can be worked through several times in a row and you get paid again every time.
If you really want to earn larger amounts with this ySense, you are in good hands with the tasks and offers from ySense.
10 euros a day shouldn't be a problem for experienced home workers. These are sums that other providers can only dream of.
Paid Video
YSense also offers opportunity to earn some money by watching paid videos to the users.
Most of the time you are presented with YouTube videos, which are remunerated with a fraction of a cent or 1-2 cents, depending on the advertising sponsor.
You don't get rich quickly, but if you look at all the options, you should quickly realize that you have an established and very reputable service here that has paid millions of dollars to its users over the years. A prime example of a well-run company.
Referral program
ySense give 30% referral earning to the users. Just invite your friends and watch your earnings grow.
When a referred user looks at advertisements, completes tasks or fulfills offers, part of the amount is credited to your own account without having to do anything. (The referred user (referral) of course still receives the full amount).
The number of users you can refer is unlimited. Earning through your referral is a decent passive income with ClixSense without any problem.
User friendliness
The design of ySense is also contemporary and is impressive and user-friendliness. All essential functions of the site can be access quickly
During the time I spent with ySense, the website never crashed. It always delivered the advertisements smoothly and quickly. YSense offers enough advertisements for newcomers.
Reliability
ClixSense has been online since 2007 , which alone is a great testament to the seriousness of a paid to click provider, most of the competitors cannot last that long.
The many users of ClixSense also give positive feedback. It is my favorite paid to click provider .
Payouts – ysense payment proof
If you have accumulated 10 dollars, you can have the money paid out via PayPal, Alert Pay, Liberty Reserve or check.
Premium members can withdraw the money from as little as 8 dollars . It can take up to two weeks for the money to be in the account. But ySense is always reliable and pays out the full amount.
ClixSense became ySense – is it still worth it?
In 2017 clixsense was taken by the ySense, thus many of us doubted that is ySense is still worth to make money with PTC sites.
Let me clarify you that ySense has only changed the design since the conversion in 2017, and before that it always offered impeccable service. That's why I'm still enthusiastic about the operators and the service itself: ySense rocks!
The story of ClixSense
ClixSense was founded in 2007 and four years later it was taken over by James Grago, who was known in the scene for a long time.
The American provider developed alongside Neobux to one of the largest and most influential PTC sites with the most active users. In 2016 there was a major setback for ClixSense due to an extensive hack – a lot of user data was published.
A little later, PayPal said goodbye to ClixSense, which made it almost impossible for German users to get their money. As a result, all paid to click ads were discontinued and the affiliate system changed. That sounds like the end for the big provider at first – but it should ultimately be a restart.
Last year the name change came as a surprise – ClixSense became ySense . The old page forwarded all users to the new website with a little hint. All login data remained.
The website is reminiscent of the previous page and the opportunities to earn money have remained.
Important change: Paypal payments are possible again!
Is ySense worth it to earn money?
ClixSense has undergone a number of changes over time – both positive and negative. Little by little, there were always new earning opportunities. Paid surveys , "tasks" and cashback are now standard with most modern providers.
YSense offers a wide range of ways to earn money on the Internet with small expenses. I have extensively tested ySense and would like to briefly describe my experiences with it.
I surveys
At ySense, surveys are called the paid surveys. At the time of my test there were an extremely large number of opinion polls to choose from, with which one could earn up to 1.5 dollars per piece. If you do without the unnecessarily drawn out surveys, this is a nice way to earn money quickly.
II Offers
The special thing about ySense: Here we work with many different third-party providers with whom you can earn money. The offers conceal free registrations, competitions, contracts and classic cashback. The merits with it can be seen and are almost unlimited – if you have the time.
III tasks
Tasks are small daily tasks that are remunerated with small amounts. This can be correcting texts or searching on Google. Big advantage: the tasks can be completed very quickly one after the other.
IV Affiliate Program
The bottom line is that ySense's referral program is still very worthwhile. For recruiting a new member, you will be credited directly with 10 cents. If the referred user is active, there is an additional 2 dollars. In addition, there is a share in sales for all promotions.
Conclusion – ySense is worth it
Founded in 2007 as a pure Paid2Click website, Clixsense started its own market research department in 2012.
Since then, this platform has risen to become one of the largest providers in this field worldwide, based in New Orleans, Louisiana. In July 2017, Clixsene then discontinued the click payment service (PTC or BUX) and took the step towards a purely paid survey platform.
In July 2019, the brand was renamed from Clixsense to ySense. We believe that this is a move away from the image of a click provider.
If you need any ySense help, click the FAQ section.